If you're a contractor or civil engineer, you know more than anyone about all the nightmares one has to face at a construction site. From not having the right heavy tools for the job to all the pollution putting a dent on your health and your conscience. But what if it was possible to get the tool you need from an equipment rental agency not more than a day after you order it. Also, one that is equally concerned about going green. Does that seem like a dream to you? Continue reading, and you might come to realize that it is much closer to reality. We are here to offer you a green world that focused on the future.
Green Rental understands you are looking for a one-stop solution for equipment rental service near Miami-Dade, Broward, and West Palm Beach counties. It's our mission to lessen your headache by providing the best quality rental service with the best quality heavy equipment. No matter how critical is the task for you, we'll be there for you with the equipment you need. Building higher and letting you create a brighter future is our success. As Green Rental builds up South Florida's rental market, construction equipment is driving the green way forward. Careful reuse would require the use of existing assets. With that in mind, Green Rental rents out only the best and most environment-friendly equipment from well-known equipment manufacturers such as Caterpillar, John Deer, and Bomag.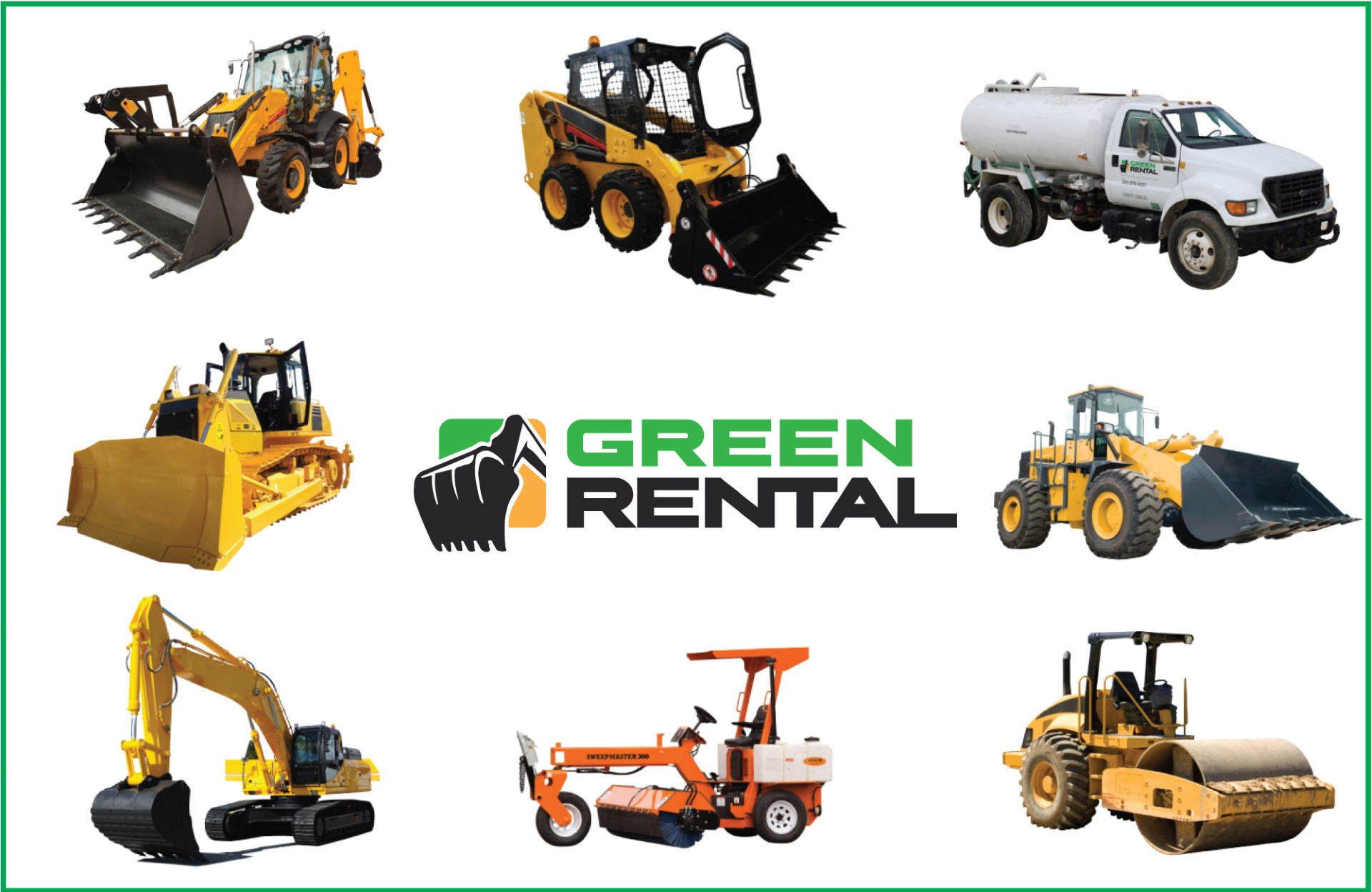 When Equipment Rental Makes Sense?
When you are on a project with a limited budget and short timeline, you have to think on every step before you go. If this circumstance sounds to you, then we can be your dependable option. Whether you need rollers, water trucks, backhoe loaders or excavators, we are available for renting the best quality equipment near West Palm Beach, Broward County, Miami-Dade County. Benefits of renting:
Rent on a daily, weekly or monthly basis
Minimize fixed costs with affordable prices
Lessen your stress by choosing the right equipment
Test equipment yourself before buying
The Advantages of Green Rental?
Even If you're a veteran in the construction industry, we understand that the little intro about us may not be enough to convince you. Thankfully, we have a lot more to offer, benefits you may not find elsewhere, to get you to our side. Green Rental is relentless in making a difference around the globe through our services, efforts, and equipment. With a dedicated team and diverse solution, we vow for the satisfaction and support you desire for. Every project you take reflects our goal to finish it in an eco-friendly way. Let's frame our specialties:
Easy and Quick Setup Process for new customers: Get quotes moments after a call or email where a human representative will help you step by step with the renting process. Our experienced staff will share their knowledgeable recommendations for your equipment needs.
Quick Delivery: You'll usually get the equipment on the same day or a day after renting. Fast delivery and pickup system differentiate us from others. Renting setup is quick and easy, there will be no hassle for you. Equipment you ask for will be delivered through a semi-truck and whenever you are done our team will pick it up as well.
Better Prices: Being a family-owned and operated business means less overhead. Thus, fewer prices are taken from customers. We respect every penny you provide us. Our top-quality service and equipment worth the price you pay as well. Our same-day delivery feature with competitive prices makes us an auto choice for many satisfied users.
Rental Expense Decrease: We know that equipment rental makes up the second-largest expense during a project. As such, we have formulated a pricing structure so that our equipment rental service ensures you get the best value for your price.
We believe that these reasons, along with our environment-friendly attitude, will make us the first choice when you think about renting any equipment. Furthermore, even though we're a heavy equipment rental located in Southern Florida, we rent equipment in 3 primary areas. Our service range includes:
Equipment rental in West Palm Beach County
Equipment rental in Broward County
Equipment rental in Miami-Dade County
Green Rental equipment takes lubricant refilling needs down through improved creativity and tuning, has extended assistance periods and reduced total cost. All to provide top-quality equipment rental agency service worthy of being called among the top 10 equipment rental in Miami-Dade, West Palm Beach, and Broward counties.
Types of equipment:
With the intricacies of who we are and what kind of service we provide out of the way. Let's get down to what you're here for, the equipment we provide:
Water Trucks:
Water trucks are extraordinary vehicles with huge back tanks to carry water and pressure-driven frameworks for distribution with controlled shower spouts. Using water trucks to control residues is fundamental to maintaining the well-being of construction workers. More seasoned specialists and workers with endless conditions, including coronary illness, asthma, bronchitis, emphysema, and other breathing complaints, are particularly defenceless against residue impacts. Water trucks are also vital in stopping accidental fires.
With our view towards green construction work in mind, we understand the importance civil engineers find in keeping water trucks around the construction site. With its dual gas and diesel-powered engine, we see this 1000 lb torque truck to be the perfect water holding companion we can offer.
Features & Applications include:
Controlling Dust
Fighting Against Fires
Soil Compaction System
Farming
Automatic Hose Reel
Rollers:
Compaction rollers, which are also called vibratory compactors, change particles in the soil to reduce voids and maximize thickness. They supply a load-bearing quality board. We pulverize and straighten soil using a circular disk, known as a frame. Without rollers, the streets would have intermittent and massive surface damage, making it dangerous to ride. Besides, they work wonderfully to make minimal establishments.
The smooth roller works best at workplaces for development and roadwork. Single-drum rollers reduced soil, rock, and black-top and laid the surface for carports, walkways, and facilities. They make the surface of the ground soft and level, which is why Green Rental provides the option for two distinct single-drum rollers! The BW 177 D-5 and the BW211D-50, both manufactured by the well known and highly respected Bomag.
Features & Applications include:
Strong Force of Vibration
Environment-Friendly Engine
Durable Rubber Based Isolation
Vandalism Protected
Ideal Brake System
Easy compaction of dirt, gravel, asphalt, broken sub-base stone or any other surface material at the site.
Backhoe Loaders:
Backhoe loaders are a unique type of equipment. It comes in 3 distinct parts, each with its purpose. The central tractor for motion, a loader at the front and the backhoe at the back. Making it a very versatile tool that can curve up dirt and other material from the end and load up on stuff from the front.
With that in mind, renting such a piece of versatile equipment from Green Rental is a financially savvy deal. Rather than investing in an extended haul responsibility for new equipment, renting helps eliminate the initial high investment. With our offering of the supreme John Deere 310G, you're not just renting a single massive tool. But instead, you're getting a substitute for multiple pieces of equipment straight from our south florida equipment rental agency.
Features & Applications include:
Multitasking
Cover varieties ranges of terrain types
Ground clearance
Reduce labor cost significantly
Comfortable space for the operator
Easy to use controls
Digging ditches
Laying pipes
Planting underground cables
Laying the foundation for buildings and drainage systems
Widely used for road and construction projects
Backhoe loaders are popular for its versatile features and functionality. You can easily do all these kinds of stuff with John Deere 310G at an affordable price.
Excavators:
Maybe you don't need such a compact and sophisticated tool such as a backhoe loader. If so, then we understand. After all, sometimes, the most straightforward tool is the most effective. That's why we have a selection of no less than 4 CAT excavators for you to choose from. All with different sizes ranging from the medium-sized CAT 329E to the mini CAT 308 CR to reach those tight spaces. So just by renting from us, you'll have all your excavator bases covered.
Features & Applications Include:
Driving piles
Mining
Creating trenches
Snow removal
River dredging
Landscaping
Digging holes
Demolition
Material handling
We know that the job of excavators is outstanding and long-ranging. Everything from establishing canals to carefully clearing out the woods is done through this tool, which is why we have so many different options to choose from. You'll always find the right excavator for the job.
Sweepers:
"Having a sweeper around actually decreases the total cost of construction. The added efficiency from having a clean worksite helps much in offsetting the balance of renting an additional sweeper."
If you have a forward-thinking mindset like that or simply because your work requires you to keep things clean and tidy, you might want to consider getting a sweeper. Thankfully we have you covered with the cost-efficient and pollution decreasing LAYMOR SWEEP MASTER 300.
We cannot stress enough that going green is at the core of the tools we have to offer. So, a good sweeper that helps to clean off residue is something we care about immensely. So, you can trust us when we say we have the right sweeper to offer for the job.
Features & Applications Include:
Enhance the cleanliness from outdoor floors to indoor floors
Quick sweeping solution for large places
Dust-free technology ensures green environment
Tackle with any particles on any surface
Labour intensive equipment saves money & time
Operator friendly control
Widely used for industries, warehouses, outdoor cleanups, shopping centers, and manufacturing plants etc.
Bulldozers:
Bulldozer, also known as dozer, groundbreaking earth pushing or shaking machine is used in street construction, farming, development, and wrecking. It consists of a massive, expansive steel edge or plate mounted on a tractor's chassis. Bulldozers are large vehicles followed, regularly used along with other heavy equipment. A bulldozer alone can do many types of uncovering, and in most exhuming work, it is valuable in combination with other machinery.
Bulldozers might be the most common heavy equipment. And usually an absolute must for any construction project. For ventures that require more mobility and flexibility than more extensive devices, a smaller than usual dozer is incredible. Because of its small size, a minimized bulldozer can perform well in various types of undertakings that require assignments such as clearings and grading, which is why Green Rental provides the CAT D3K and the CAT D5K for the needs of every contractor and civil engineer.
Features & Applications Include:
Backfilling and crowning
Leveling, scrapping and shaping
Go-to equipment for stripping operations
Heavy torque capacity allows to drag any objects
Can break rock-solid surface at ease
Deep grounding mobility for construction sites
Pushing and handling materials at larger working area
Wheel Loaders:
Wheel loaders are quad-wheeled earthmoving devices used mainly to stack free materials with a front-mounted container. Wheel loaders provide the power, agility, and flexibility to perform a variety of rugged applications, operating in tight spaces and challenging conditions. At the stage where you are engaged in contracting, growth, degradation, squander evacuation and numerous different industries, wheel loaders are the simple machines for productivity optimization. Wheel loaders are made to face the toughest situations in an equipment rental agency while providing cutting edge innovation to enable your administrators to increase accuracy and well-being.
Features and Applications Include:
Soil digging
Soil leveling and spreading
High dump buckets
Loads dump truck faster than any other equipment
Materials hauling & tracking for constructions
Adjustable seat for operator
And although wheel loaders come in various shapes and sizes, we at Green Rental provide small wheel loaders. Both from CAT (CAT 924K) and John Deere (JOHN DEERE 544K). Both of which are of the lower and compact variety to match the flexibility required in the modern construction environment.
Skid Steer Loader:
Skid Steer Track Loaders provide ideal strength and performance on small to medium-sized jobs where space is a thing you have to keep in mind. These catamounts are amazing for burrowing, assessing, and levelling. For example, with an assortment of connections, tires or tracks, you can go through harsh landscapes and wet or sloppy regions on delicate and sandy surfaces. Whether you're kicking things off on a building site, clearing up the walkway or moving overwhelming burdens around the workplace – we've got a skid steering track loader to meet your needs. With this loader being the compact and versatile KUBOTA SVL75-2W.
Features & Applications include:
Works with an open or closed cap
Snow clearance
The bucket's edge is clear from the seat
Attachable system to connect tools for excavation and construction
Optimized system of air conditioning
Easy to open from door sliding
Can also be used for landscaping, trenching and digging
Final Thoughts:
At the start, we posed a question. We wished for you to ponder if a genuinely green and quick rental solution would ever be possible. After reading about what makes us unique and what tools we have to offer. I'm sure you now realize that as an equipment rental agency, Green Rental manages to accomplish both of those tasks.
Green Rental provides the most affordable equipment rental service at the prices you require. Whether it's regional road repairing, market repair, livestock, or forestry, and general contracting, you focus on top-quality equipment to help you. If you are in Florida, there's a possibility Green Rental has everything you need.